Our Attractions!
Oregon's Favorite Amusement Park on the Coast!
Before you even finish driving into Seaside, you'll be having fun with the whole family!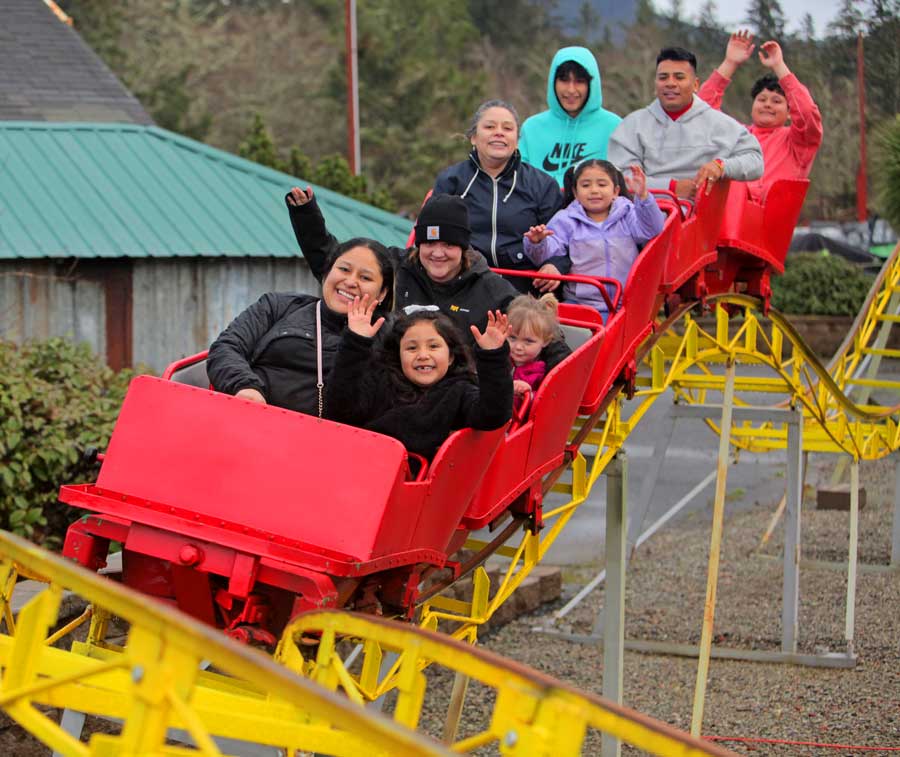 1972 B.A. Schiff Family Roller Coaster
Our single train 5 car B.A. Schiff park model, lovingly known as "Sharkbite" is a coaster the whole family loves. Each car can seat 1-2 riders. Minimum height 34", under 48" must ride with a supervising companion. FUN FACTS!
We are listed in the RCDB (rollercoaster database) on the good ole internet! We got this coaster in 2020 from a family fun center in PA. There are huge groups of rollercoaster enthusiasts that travel the world with the goal of riding every rollercoaster made.
The furthest travelers came all the way from Washington, D.C. and Cleveland, Ohio just to ride the coaster. Both enthusiasts, Rick and Keith had ridden so many other coasters; Rick 1712 and Keith 1620! Now that's what we call fun!Minimum height 34″, under 48″ must ride with a supervising companion at least 16 years old. Maximum weight per car 225 lbs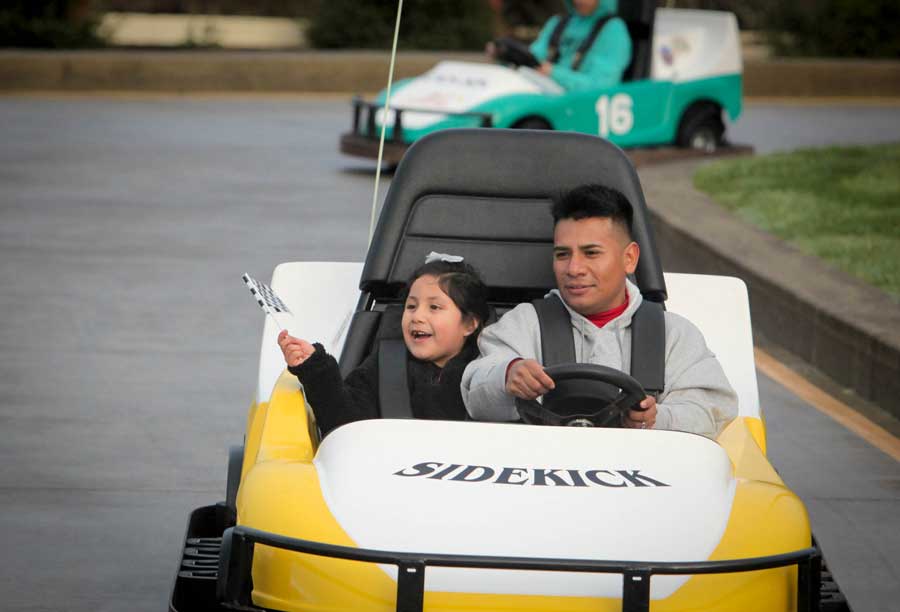 Go Karts at Seaside Speedway
"Seaside Speedway" was completed in January 2021 and officially opened to a crowd on March 20, 2021. Owner Bruce Rath designed the course and did most of the work himself with help forming and pouring the concrete from the late Wade Halbrook and crew. The 600 foot long track includes corners and hills, making it exciting and competitive. If you prefer not to race, there is a covered stadium to observe and cheer your favorite racer along. Seaside Speedway is a very unique family friendly go karting experience, unlike any other you may have experienced. We do allow younger drivers who are at least 10 years old and 58″ tall, but they must read and follow all the safety rules, as well as sign with their parents acknowledging they are old enough and understand the rules and risks. Go karting involves the ability to pay attention and follow these rules and we strictly enforce safety on the track so the experience can be fun for everyone. We want all to have fun and leave here with smiles on their faces!
Minimum height 58″, under 58″ AND under 10 years old can ride with an adult in a passenger car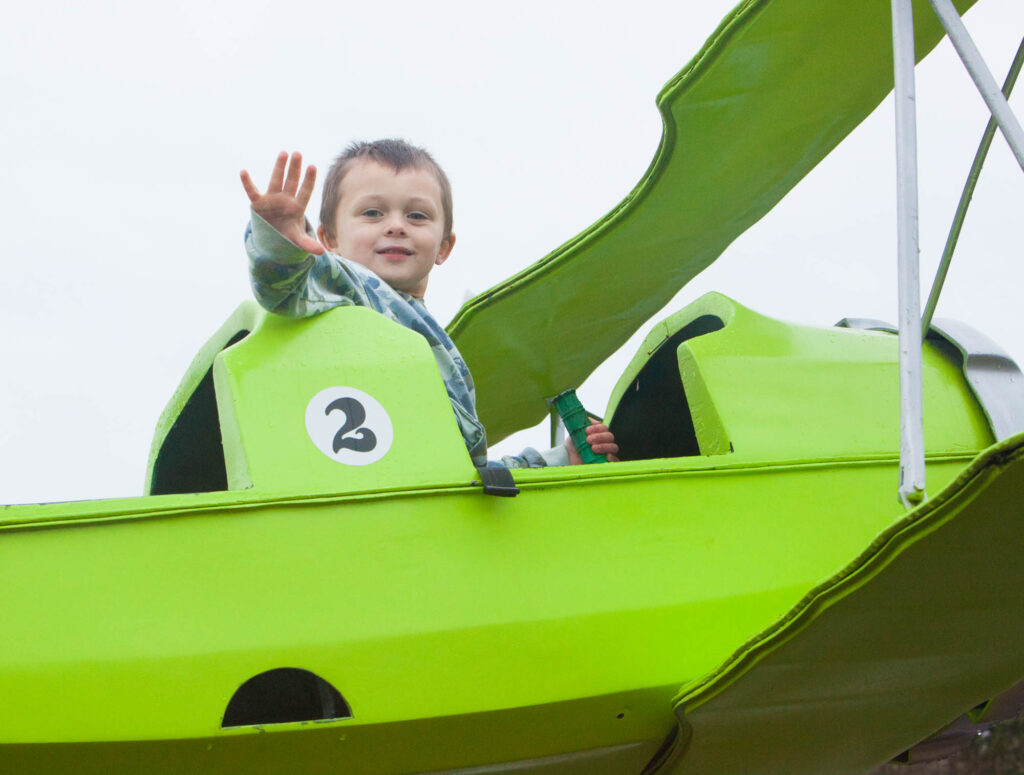 Allan Herschell Helicopter/Airplane Ride
Another old school ride from the late 1950's, this is a favorite among kids and kids young at heart! Controlled by the rider, flying up high and back down low, the interactive feeling of being a pilot always brings happy smiles. Minimum height 32″, under 42″ requires a supervising companion at least 16 years old. Airplane maximum weight 100 lbs, helicopter 225 lbs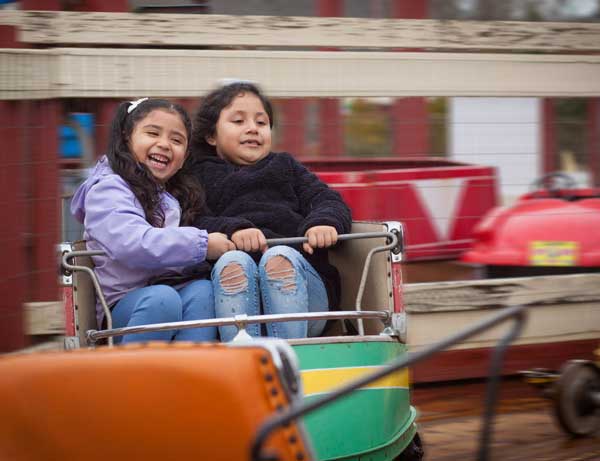 W.F. Mangels Kiddie Rotowhip
The 1959 Rotowhip was designed by W.F. Mangels of Coney Island, NY. Chances are your grandparents loved this one when they were your age. Do you see a pattern here at Captain Kid Amusment Park? We love the oldies! (Our rides and grandparents!)
Minimum height 36″ Maximum height 54″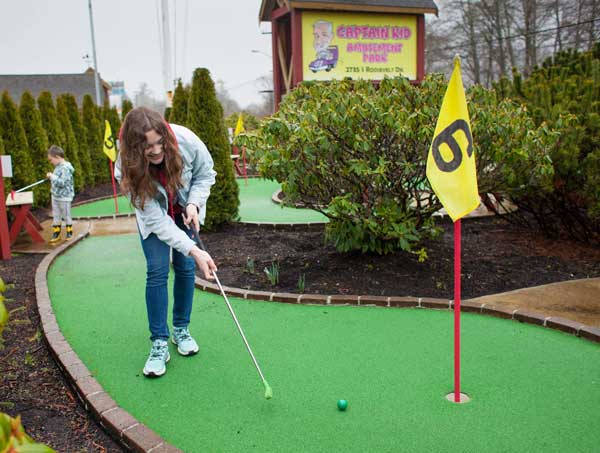 18-Hole Mini Golf Course
Built in 2020 and designed by owner Bruce Rath, our 18 hole mini-golf course is quaint and fun. The course is well suited for all ages and abilities. Just when you think you have a strong lead, along comes the encounter with Jeremiah's Revenge! Named after the employee of our concrete contractor, Wade Halbrook Concrete, Jeremiah ensured this hole would be a challenge and spent hours shaping and molding this gem! All 18 holes are named, some after grandchildren, while others after Wade and his crew. Sadly, we lost Wade to cancer in 2021. He was a great community guy and loved by so many. Wade did so much concrete work for us, including the golf course and Seaside Speedway. As his illness progressed, he fought through to be sure the work got done, which he did complete before he passed, helping to fulfill owner Bruce's dreams for the new track and golf course. Wade was one of a kind and will always be remembered and missed!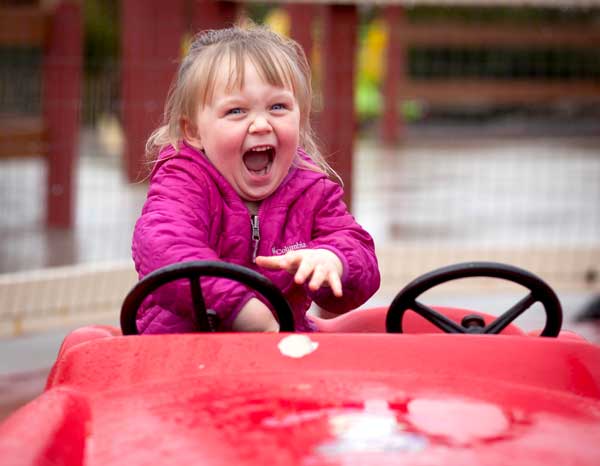 Kiddie Car Ride
Another old school Allan Herschell ride, this is for the little ones to ride all by themselves. Watching them "drive" around the platform, using their sweet, innocent imaginations will brighten your day!Minimum height 30″, Maximum height 48″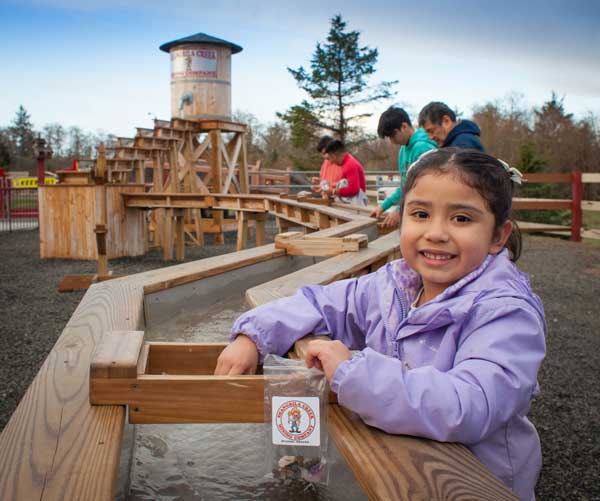 Shangrila Creek Mining Company
Shangrila Creek Mining Company is the latest addition to Captain Kid Amusement Park. Not just for the kids, all ages enjoy panning for treasures in the sluice. Guaranteed to find lots of cool gems to take home, identifier cards included which make this a great interactive and educational family attraction!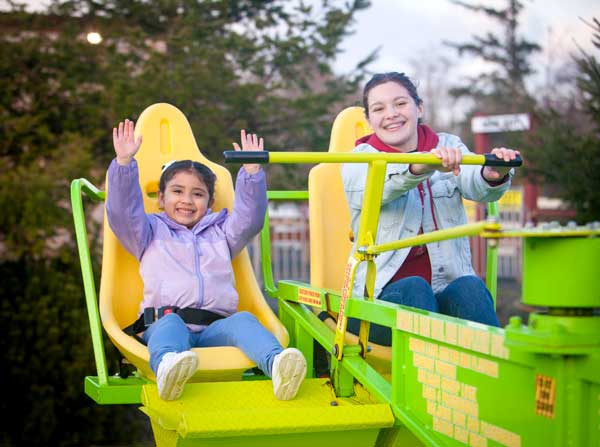 The Wizzer!
The Wizzer is an exciting ride where you test your endurance while competing against fellow riders. Push and pull as hard and fast as you can, spinning around and around. The faster and harder you pump, the faster this ride goes. A great family attraction for all ages. Sibling rivalry? Settle it on the Wizzer! Minimum height 42″ and the ability to pump ride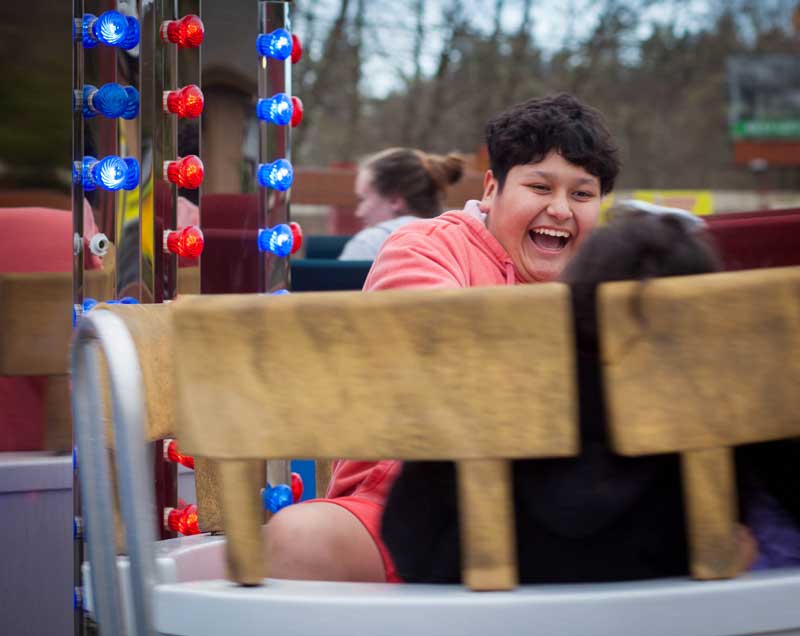 Tubs of Adventure
Toss, turn and spin for some wild fun! The ride goes around and around while riders control the wheel inside their tub to make it go as fast as one can handle. Another crowd favorite for all ages. Minimum height 32″, under 42″ must ride with a supervising companion at least 16 years old